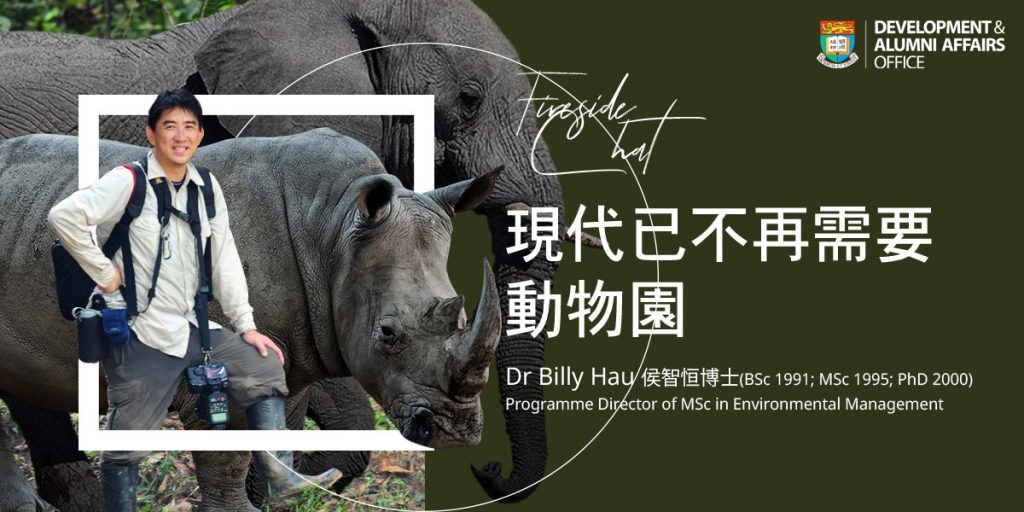 Fireside Chat with Dr Billy Hau 侯智恒 (BSc 1991; MSc 1995; PhD 2000)
Programme Director of MSc in Environmental Management

現代已不再需要動物園  Are zoos still needed?
November 14, 2019 (Thur) [postponed]
6:30pm – 8:00pm
Endowed Professorships Gallery, Hung Hing Ying Building,
The University of Hong Kong (map)
Dr Hau is a Principal Lecturer at the Division of Ecology and Biodiversity of the School of Biological Sciences, HKU. In July 2019, Dr Hau led a group of students, alumni and members of the HKU Foundation on an East Africa Wildlife Eco-Tour. Participants had the once-in-a-lifetime opportunity to witness the Great Migration in Kenya, as well as breathtaking views of Mount Kilimanjaro in Amboseli and more. Students were the eco-leaders and personal eco-guides, sharing their passion for nature and knowledge with fellow participants.
The HKU Foundation and the Faculty of Science will co-present the second "East-Africa Wildlife Eco-tour" in July 2020. At this Fireside Chat, he and the tour participants will share their ecological learning experiences, and will also give a preview of this trip, which will be open to Foundation members and alumni!
侯智恒博士是港大生物科學學院生態學及生物多樣性分部的首席講師。今年 7 月,侯博士帶領學生、校友及港大基金成員到東非考察野生動物生態,一睹自然界奇觀動物大遷徙,以及其他壯麗景色,如位於安博塞利的吉力馬札羅山。學生在旅程中更擔任校友及港大基金成員的生態導賞員,講解所見的生態物種,分享對大自然的熱愛。
香港大學基金與理學院會於 2020 年 7 月再次合辦「東非野生動物生態團」。侯博士將帶同生態團的參加者在這次爐邊漫話,分享是次旅程點滴及生態教育體驗,並為大家預告明年生態團之詳情,歡迎香港大學基金會員及校友參加!